The celebration and preparations for 26 January Republic day has started once again. You can book tickets online for Republic Day Parade event in New Delhi. The official online ticket booking for Republic day Parade 2021 is made available and the same can be booked for Beating Retreat Ceremony as well. Regarding how to get tickets online, the list of official centers and websites have been mentioned below for your reference. The ticket prices and their availability may change accordingly as per seats reserved for various people during the event.
All those who are interested to buy tickets online for Republic Day Parade 2021 at Rajpath event and Republic Day Rehearsals event can get them from official stores in New Delhi or else book the same from here. The links for ticket booking has been allotted by Government of India. The Republic Day Bravery Awards for 2021 parade event will be followed after Jhanki Tableaux display of various states culture.
Please take a look at the grand celebration itinerary for the event and various function that has been planned during the 72nd R-Day celebrations at the Rajpath, New Delhi as PM Shri Narendra Modi makes way for a grand occasion for our pride of the nation!
The Government of India has already announced that Republic day celebrations will be happening with full honour and respect upon various delegations served by PM of India.
Current Update: As per Government offices based in New Delhi and Rajpath regions, almost 70 percent tickets are sold between public online and across different stores in New Delhi. This includes data of about 40 percent sale in online ticket buying at the office.
Update due to COVID-19 Restrictions: The Government has announced that it will take strict social distancing in place before the event and all public attending the event will be carefully monitored in the seating space.
New Update declared in January 2021: According to the official sources, there will be restrictions applied to all age groups below 15 years (children) to avoid the ceremony. Also the current year will host close to 30,000 tickets to the show in place of more than 1,15,000 tickets generally sold every year.
All these restrictions and rules have stepped in due to the ongoing health concerns and safety norms taken in the pandemic.
Republic Day Jhanki Best Photos for different states, take a look: Republic Day Jhanki 2021 Photos from Rajpath Delhi Parade
The ONLINE TICKET SALES for Republic Day Parade is in full swing!!
Decorations and Preparation for 72nd Republic Day Celebration 2021 at Rajpath, Delhi
As per official sources – Doordarshan TV and media speculations, this time Prime Minister Shri Narendra Modi will accompany the sovereign of Jawans who had battled hard in Jammu Kashmir and also for those soldiers who lost their lives battling for the nation.
Take a look at great photos and celebration album: Republic Day Tableau 2021 Photos Winner, Best Tableau and Jhanki
There will be special ceremony to pay national respect to all those family members in form of a parade by Military leaders.
The march and salute of Indian Soldiers – Our Heroes of the nation!
We will also witness the occasion of Naval troops leading the new march of success as a part of their success initiative. In a recent news confirmation from India Today, the Prime Minister will accompany the Britain President – Mr. Borris Johnson after he confirmed his presence at the recent G-20 summit at Argentina.
There will be balloons organized at the edge of the streets during the Republic Day rehearsals which generally happens in January 24. The Republic of India will be proud to host the Nation's biggest showdown in form of parade when all three units – Air Force, Navy and Armed Forces march forward to showcase the biggest pride of our nation – India!
Online Ticket Booking sales for 26 January Republic Day Parade 2021 started
The Government of India has imposed a new update wherein people across the country can buy tickets online and come to witness the historic celebration of Republic Day Parade on the occasion of PM Shri Narendra Modi addressing the public.
We have mentioned the ticket prices below in our article, however the Government agencies confirm that ticketing partners like Paytm and BookMyShow will honour the facility of ticket booking online. There will be a need to show the official Government Citizenship ID proof while procuring these tickets.
Start Date of online ticket sales :: From 15 December, 2020 onwards till 25 January, 2021
Republic Day 2021 Events and Functions
There's going to be number of events that will be happening that day in presence of India's PM, President of India and with the Chief Guest. The Government has decided to display cultural and democratic India with students showcasing different flavours of each and every state.Let us take a look at the chronological summary of events lined up this day:
Republic Day Celebrations – Rajpath, New Delhi
Special decoration and preparation for Republic Day event prior to actual event day
Flag Hoisting Ceremony by President of India which follows the National Anthem
This year, United Kingdom (UK) British President – Borris Johnson is being invited as the Chief Guest of Republic day celebrations to accompany India's PM and President at the Rajpath.
After the flag hoisting, special Republic day parade begins which is the most loved and highlighted event in the entire celebration. All three strengths of India – Indian Army, Navy and the Air Force give their salute by marching past the President's Box along the India Gate.They march from the India Gate, along the Rajpath to Vijay Chowk for with colourful regiments from all sectors of India.
Special awards for exceptional performances in Bravery are awarded to eligible students. Civilians having high honour in armed forces are also awarded with Ashok Chakra and Kirti Chakra on notable lines. Then special state wise representation of cultural dance from students of various schools take place at the venue.
You will also get to see Jhanki's of various states commonly referred as Floats where they depict each state's cultural richness in regards to their living style.
All states have a different symbolic meaning and various artists  perform those to show the actual meaning of each state.Following that, towards the end, the Border Security Forces (BSF) professionals show stunts on their motorcycle hurling flags of India. They symbolically show the Republic day celebration in their unique stunt show.
The final showdown really embarks the uniqueness with Indian Air Force spread the tri-colour in the sky when they fly past in a pattern of groups. This in itself give rise to national glory and honour of respect for them.
How to buy tickets for Republic Day 2021 Celebrations in New Delhi
If you are looking forward to the grand festive event that has everything in it for a national feeling, you should go ahead and buy the much awaited tickets for the event. If you are non-localite, prefer buying tickets online once sale commences for the same.But if you are a localite of Delhi, go to some non departmental or departmental counters where you will get tickets at a reasonable price.
Here are few Departmental counters and locations of Ticket sale counters which are the official ones for ticket buying options in New Delhi:
Pragati Maidan at Bhairon Road Gate No.1
Red Fort, Purani Delhi Palace – Inside the August 15 Park and opposite to Jain Temple
Shastri Bhavan at Gate No.1 and near Gate No.3
North Block Roundabout and South Block Roundabout
Jantar Mantar – Main Gate Entrance and opposite India Gate
India Gate – Jamnagar House Building
Government of India – Tourist Office at Connaught Place in New Delhi
Parliament House at the Reception office Gate – Special Counter for the Honourable MP's
Sena Bhavan – Gate No.2
There are other non departmental offices as well where you can fetch tickets for the event as early as possible. Here are the locations:
DTDC Counter – Coffee Home, Baba Kharak Singh MG, Opposite Hanuman Mandir, New Delhi
ITDC Counter – Connaught Place, Janpath, New Delhi
DTDC Counter – Dilli Haat
DTDC Counter – Food and Craft Bazaar, Near INA Market, New Delhi
ITDC Counter – Ashok Hotel, Chanakyapuri, New Delhi
Commencement of Ticket sales at offline offices and store are mentioned at the below dates:
Availability Date: 6th January, 2020 – 25th January, 2020 :: Timing from morning 10:00 AM to 12:30 PM and afternoon 2:00 PM to 4:30 PM
For Beating Retreat ceremony: 27th January, 2020 – 28th January, 2020 :: Timing from morning 10:00 AM and open till evening 4:30 PM.
These are by far the official places to get tickets for parade event celebration in Rajpath, New Delhi. Regarding online tickets availability for Republic Day 2020 event, the sale has already started and you can book through the official links available.
Republic Day 2021 Celebrations Ticket Prices and Availability
A lot of speculations has recently occurred in regards to ticket prices for the event. We would like to alert you of fraud people indulging in ticket sales for the event. Only people who have a valid photo id card are eligible to avail tickets for the event.
Students can show their Photo ID cards and avail tickets at the price of half the cost. People residing outside Delhi can opt for online tickets which has a reasonable cost while localites can avail at the original cost. Here's a breakdown of the prices:
For Indian citizens – Opting for online ticket – Rs.350/-
For Indian citizens – Opting for offline tickets from stores – Rs.300/-
Student tickets – Both offline and online – Rs.50/-
Unreserved tickets – All eligible – Rs.150/-
Unreserved – Student Tickets – Rs.10/-
If you are visiting the office of DTDC or Government offices as per listed above, payments are accepted in form of digital format as well. The price of tickets can be paid in form of Debit card / Credit card / Wallet payments.
What are the documents eligible for buying Republic day Parade Tickets 2021
Government has gone strict with full measures to protect fraudulent activities involved in ticketing. Therefore all departmental and non-departmental stores have made it mandatory to show Government Photo ID cards while buying them.In case of online tickets, you have to input the ID number of eligible I-Cards as per Government norms:
Passport
Voter ID Card
Driving Licence
Aadhar Card
Student I-Card
PAN Card
These are the valid proofs which are eligible for buying tickets for R-Day celebration on 26th January, 2020. We have few free tickets available for interested people who might want to visit the venue for Parade celebration event at Rajpath.
If you want to avail the free tickets for you and your family, all you have to do is share the article and comment with your views as a response to this article. We will ensure the best participant wins at the end of the contest! We will deliver the free tickets at their address through an email communication.
Republic Day Parade Celebrations at Rajpath – Jhanki, State Tableaux and Military Respect
The celebrations at Rajpath, New Delhi is felicitated by member of honour and respect given to each state when they march past showing culture and sections of people living within the society. There are also huge guard of honour shown for military section – Army, Navy and Air Force team when they perform at the parade ceremony.
The Chief Guest of Honour enjoys the moment of pleasure with PM of India – Shri Narendra Modi as they salute the army merchants and nuclear power possession of India towards national glory. It is a huge pride and respect for people who sits and watch the ceremony come alive at the event of national honour.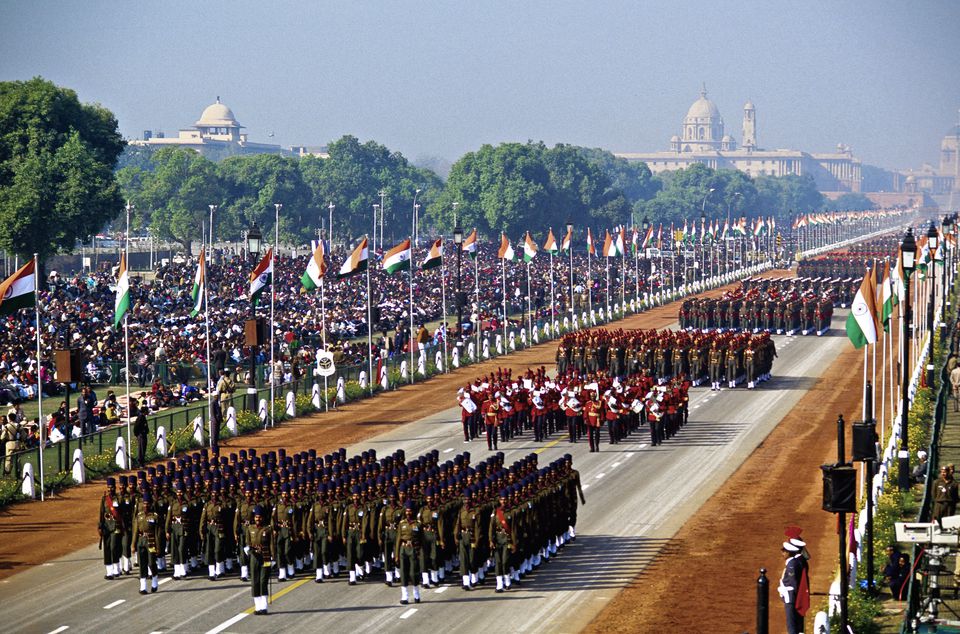 Republic Day Celebration 2021 Ticket Booking Online available now!
We would be extremely glad if you can let us know your interest for coming at the Republic Day parade event on 26th January, 2021 at New Delhi. You can comment below with your details like name and email so that we can contact you at the earliest for free tickets.
PM of India has stated that this special event will also be open for few people who are eligible for free passes directly.
Republic Day Bravery Awards Respect and Cultural Events by Students
After the Republic Day Parade is completed for all three wings of the Indian Army, Prime Minister Shri Narendra Modi will present the Bravery Awards to the eligible young heroes of the nation. This is a very special award recognized by the Government of India and is present after rigorous selection of courage acts performed during the entire last in different states.
After felicitating the Bravery Awards, Cultural Dance event is performed by the students of Kendriya Vidhyalaya, New Delhi region. Every year the tradition is followed and showcased some of the best dance acts of different regions all together showcasing the diverse culture of mother India.
The performance is specially choreographed by India masters and the training for such Dance acts as per regional diverse culture is performed by different students of Delhi region.
26 January Republic Day – National Importance Short Cultural Parade
In the coming celebration of 26 January – Republic Day Event in New Delhi, people can witness a cultural parade dance festival to be performed by Government college students in the state. This prolific dance theme has been organized keeping in mind the different languages and traditions followed by each state in the parade.
On the occasion of organizing this special dance with parade after the military show, it would give the Chief Guest immense pleasure to celebrate the occasion of national festivity with full colors and joy.
Republic Day – Special Speech from President of India
A day before the Republic day parade action begins, President of India – Shri Ramnath Kovind will deliver a speech stating what is the current economic scenario across the country and will advise on improvising the current situation on country specific issues.
Regarding political interest, there will not be any discussion regarding the battle of the parties before the Loksabha elections, however an advise would definitely come in regards to all of us voting for the elections!
This speech will be hosted by Doordarshan TV in association with Cabinet of Ministry broadcasting this special speech episode.
Republic Day Celebrations 2021 – Issue of Invitation Cards / Tickets online
The Ministry of India has issued a notification regarding the Invitation cards to be sent on higher rank officers of the country and they will get a reserved seat during the event for both Parade event and Beating Retreat Ceremony. The eligible people will need to send the list of all their members of the family eligible to attend in a proforma available by the latest till 25th December.
All the other members wishing to travel to Delhi will be given a separate arrangement under Special Forces Act and those who are willing to be part of the ceremony can buy a priced ticket for either North Block or South Block. Both these are reserved for distinct people serving as Armed or National forces.
All the general public are requested to buy the official Republic day Parade Tickets 2020 event celebration either online or through different Government departmental stores operating and providing the ticketing services. A tentative list is generated every year and these are provided during the month of January 2021 before few days of the event.
However make sure to but the tickets online because these will be available for only stipulated time period and once the availability ends they will switch over to offline tickets at higher costs.